November 1st is the death anniversary of Servant of God Bishop Vincent Joseph McCauley, C.S.C, who doubles as the pioneer Bishop of Fort Portal diocese of bishop Vicent McCauley C.S.C, the diocese of Fort Portal and the Congregation of Holy Cross always Celebrate this day in a joint effort. Servant of God Vincent McCauley arrived in Uganda in 1958. He was sent to lead the Congregation's new mission to Uganda, and it all started in western Uganda, where he focused on building up the local Church through the establishment, renovation, and strengthening of parish churches and schools.
This year (2023), we mark 65 years since his arrival into the mission. McCauley died while undergoing risky exploratory surgery on November 1, 1982, and was buried in the Holy Cross community cemetery at Notre Dame on November 4. In August 2006, the cause for his canonization was introduced in the Congregation of Saints.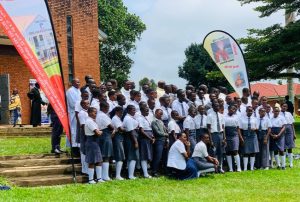 This year's Bishop Joseph McCualey Day was celebrated at Our Lady of Sorrows, Catholic Parish Bukwali Fort-portal. The diocesan pastoral coordinator for Fort Portal Diocese, Rev. Fr Gerald Akugizibwe, represented Rev. Dr Muhiirwa Robert, the Ordinary of Fort Portal Diocese. Many diocesan priests and religious were present. The Holy Cross family had a big delegation, and Mass was animated by St. Joseph's Hill Senior Secondary School in Kyembogo. A Holy Cross-founded school located in Kyenjojo.
Members that constitute a committee that was commissioned by the diocesan pastoral office to affirm and record the favors done by Bishop McCauley encouraged the Congregation to continue praying through the intercession of Bishop McCauley so that more favors can be documented to speed up his process of Canonisation.
Pray for a favor through Bishop McCauley.
Lord, we ask that you bring many to know and imitate the virtues of your servant, Bishop Vincent McCauley, and to benefit by his devotion to you and to the service of others.
We ask you through his intercession to grant me (us) the favor of……. (state your intention)
May his life inspire us to follow his example and may the recognition of his virtues bring honor to the church and glory to your name. Amen.
Download ->> Prayer for the Beatification of the Servant of God
Last modified: November 8, 2023