On June 15, Holy Cross Family Ministries announced Fr. Fred Jenga, C.S.C, has been chosen as its next President. In this role, Fr. Jenga follows in the footsteps of Venerable Patrick Peyton spreading the devotion to Mary and encouraging family prayer, especially the Rosary. Holy Cross Family Ministries' mission is dedicated to inspiring, promoting and fostering the prayer life and spiritual well-being of families throughout the world.
"It's humbling to be appointed to head this important ministry in the Congregation that supports families," said Fr. Jenga. "Strong families mean strong communities. I am honored to be invited to offer leadership in this important Congregational ministry."
Learn about Venerable Patrick Peyton
Fr. Jenga was ordained 17 years ago, and has broad experience with HCFM. He served in a pastoral role as Regional Director of the ministry's offices in East Africa for 7 years where he led the ministry in their digital and in-person mission outreach to enhance the prayer life of families. He built several teams of lay people, which have helped the ministry to grow in East Africa. He also creatively educated and helped the members of Holy Cross in East Africa learn about and embrace the ministry as an important part of the Congregation's efforts. He has served as a corporate member on the board of directors for the past 5 years.
The first Peyton Prayer Guild Chapters for children were formed under Fr. Jenga's leadership. He developed a program that brought children in schools and parishes together to learn the Rosary, pray for their families, and learn about the life of Fr. Patrick Peyton. This program has grown and now has nearly 1,000 children participating.
Fr. Jenga has a BA in Theology from the Catholic University of Eastern Africa, Nairobi, and a Bachelor of Philosophy from the Pontifical Urban University in Rome. He has multiple degrees in Communications, including from Makerere University, Kampala and San Francisco State University. He recently completed a Doctorate in Communication from the University of Texas in Austin.
Fr. Jenga was born in Uganda, where he grew up on the banks of the River Nile and Lake Victoria, in the Ugandan district of Jinja. Beyond English, Fr. Jenga speaks several languages, including his ethnic language, Lusoga, as well as Luganda, Rutooro, Swahili, and Kinyarwanda.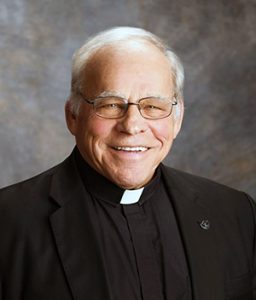 Fr. Jenga  immediately succeeds Fr. Willy Raymond, C.S.C., who has served for almost eight years as the President of HCFM. Before assuming the presidency, he had served 14 years as National Director of Family Theater Productions, which is part of HCFM's ministries.
"I want to take this moment to thank Fr. Willy who has led the ministry, as President, for almost eight years and for fourteen years as National Director of Family Theater Productions," said Fr. William Lies, C.S.C., Superior of the United States Province of Priests and Brothers, which has responsibility for HCFM. "We are grateful to him for his service and the growth and development of HCFM during his tenure. We also congratulate Fr. Fred on his new role and extend our support and prayer as he leads this important ministry to serve the contemporary family through their 27 ministries centers in 17 countries on five continents."
Last modified: October 18, 2023